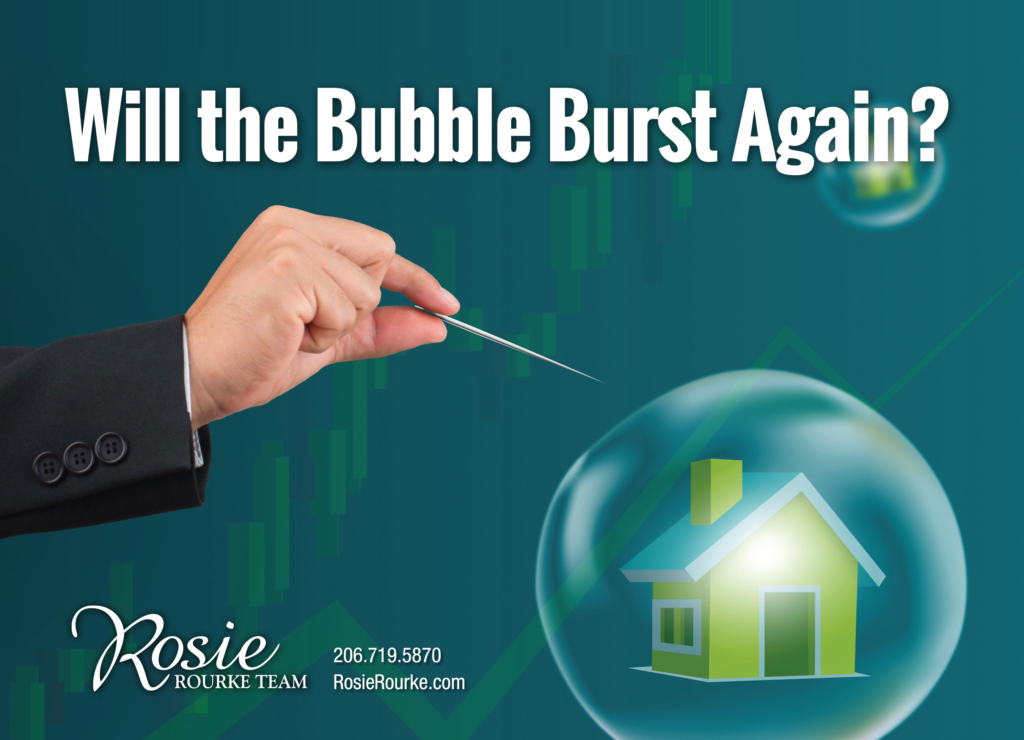 I have no crystal ball… and boy I wish I did! Despite the strength of the US economy, growing employment and wages, and a record number of eager investors and qualified home buyers… people are still concerned about a housing market crash in 2018 or 2019. As a top real estate agent for over 20 years, and one who lived through the crash of 2008, I pay close attention to major economists, national politics, and I am intimately aware of how we are doing on the local real estate level in the Northwest market. Here are some things to consider if you are on the fence about buying or selling your home in the next 12 months…
Mathematicians have studied housing bubbles and they have found that housing bubbles and real estate crashes are more than likely a cultural phenomenon (outside of major recessions).
As long as Americans are employed with rising wages and a growing gross domestic product, housing crashes aren't likely… especially in the Seattle area.
The Pacific NW was one of the last states to go into recession in 2009 and one of the first states to pull out of it back in 2011. We are boxed in between mountains and the sound, compile that with the lack of home inventory and you have a pretty good recipe for a steady housing market. We are unable to sprawl out as much, which also drives the strong housing marketing.
We have a serious lack of home inventory causing a supply and demand effect, which is driving housing prices up. This needs to balance out before we will see a change without bidding wars and price increases. But with over 1,000 new people moving to King County every day, it will be a while before things level out.
We have a strong economy in Seattle with the influx of tech companies like Facebook and Google, Boeing, Amazon, and other major companies attracted to the Northwest. With our diverse and booming economy, the housing market will continue to be hot.
Our wild card is the turbulence of the U.S. government and foreign affairs beyond our control.
Think about this, the majority of home purchases right now have built-in equity and we have more experienced 2nd time buyers. There are also more cash buyers than I have ever seen before! Plus, buyers and lenders are more cautious and are using loans that require skin in the game.
Bank guidelines are stricter for loans now. Appraisers are monitored closely. Zero down loans, loans with no proof to back funds or employment are pretty much a thing of the past, which drove the last housing bubble. This is not the case this time.
We do not have the crash of the banks with foreclosures and short sales driving down pricing of homes either.
With these point in mind, I feel warm and fuzzy about our greater Seattle market! Thinking of selling? Give me a call, let's chat! We can help you buy a home too!
-Rosie Rourke