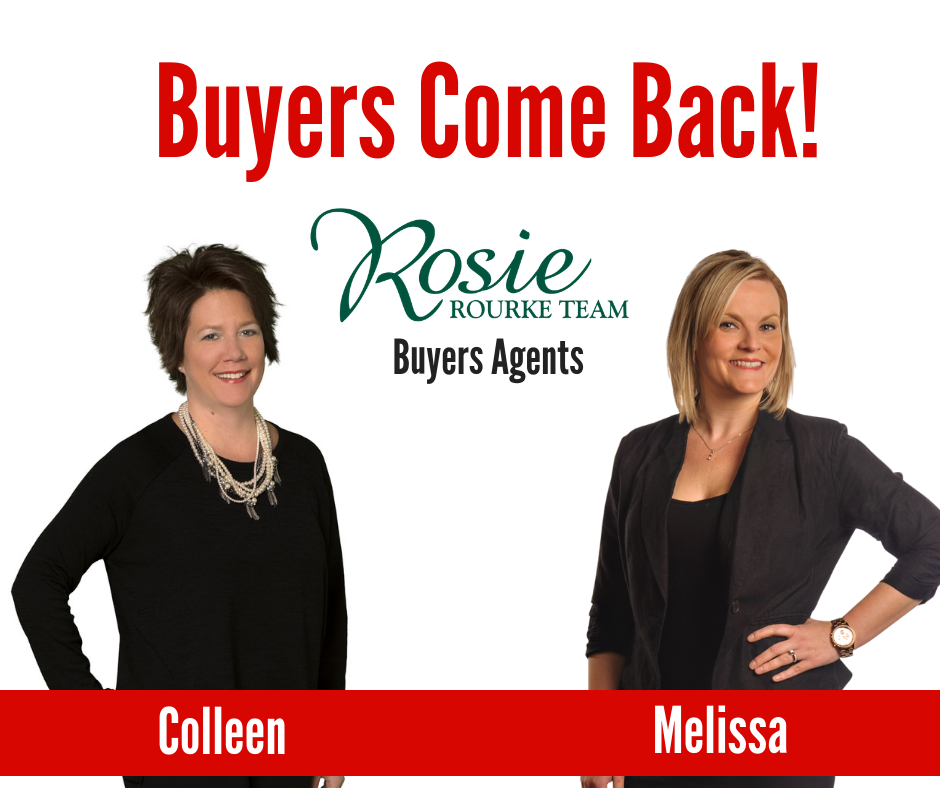 Looking to buy a new home?
Choose the Rosie Rourke Team… NOW IS THE TIME!
Colleen Linder and Melissa Hudson are the dedicated buyers agents for the top selling Rosie Rourke Team! Their sole job is to help buyers like YOU navigate the challenging and ultra competitive real estate market! Being local residents themselves, their knowledge of the neighbourhoods and their relationships with listing agents are second to none. They have helped 50+ families buy their dream homes already this year in 2018!
HOME BUYING ALERT! The market has shifted, it is no longer a crazy sellers market! No more bidding wars, no more waving EVERYTHING, sellers are even accepting offers under asking… SERIOUSLY! Now is the time, BUYERS COME BACK!
Here are 3 reasons why you should consider buying a new home NOW and not wait until after the 1st of the year!
Home Prices Have Leveled Out…

Prices have leveled out, and have even gone down in some areas. This happens when there is a lot of inventory, or homes for sale in a certain area. Listing agents are starting to recognize that they have to price homes at or below market value for a quick sale! If you buy NOW you will benefit from some instant home equity when things pick up in the Spring!

Interest Rates Will Go Up… And Your Buying Power Will Go Down! 

Historically interest rates are still crazy low, just ask your parents who had an 18% interest rate loan in the 80's! When our economy is better, like it is today, interest rates tend to creep up. Our prefered lenders are telling us the interest rates could rise by 1% after the first of the year, which can have a huge impact on your buying power! Depending on your budget, that would on average be $40-60,000 less in buying power in just a few short months. Buy now, benefit for a lifetime! And you can always refinance at a lower rate in the future, but you can't afford to wait!

Less Buyers In The Market… Less Competition for YOU!

Maybe you tried to buy a home earlier this year… good luck if you weren't all cash and $100k over asking, right? Those days are over, at least for right now. Homes are sitting for 30, 60, 90+ days with nothing, no offers of any kind. If you decide to buy now you are in control, you have the upper hand. But this temporary buyers market will not last forever! If you wait you are leaving the door open for more competition!
OK… ready to get started?
Fill out the contact form below and we will have Colleen or Melissa contact you! No pressure, just a conversation about buying your dream home!