With this post, I am happy to be continuing my "Fairwood Featured Business" series with installment #9.
My ongoing passion is to highlight and celebrate the neighborhood I live in, raise my kids in and work in.  I believe that a big part of what enhances our quality of life is when we enjoy our surroundings.  So I'm taking an opportunity to focus on our neighborhood specifically and to appreciate all that we have here, so close to home.
Previously on this blog, I have featured Plaza Cleaners, Fairwood Thai Cuisine, and Cosmo Nail Parlor, Fairwood Golf & Country Club, Fire District #40, Station 17, Shakey's, There Ya Go Espresso and  Salon Tii Gavo!
For December I am excited to be featuring…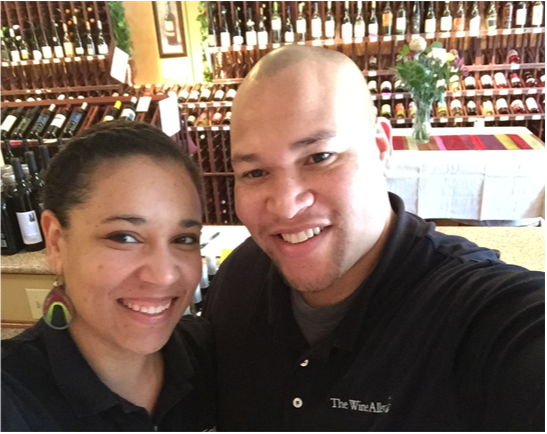 With the Holidays in full swing, what better business to feature than the Wine Alley?! A great place to get that special holiday gift or a treat for yourself!
The Wine Alley has been a fixture in the Fairwood community since 2005, but in 2015 the new owners Touŕe and Charisse Sam took over and have fallen in love with Fairwood!
A New Beginning with new Owners!
Touŕe and Charisse are excited to meet their neighbors. Originally from California the Sam's relocated to Virginia to be closer to family, but soon realized that they desperately missed the West Coast. They decided to pack up and move to the Seattle area after visiting for a friend's wedding and falling in love with the area (what's not to love?!) When the long time wine lovers found out a local wine shop was for sale they jumped at the chance. They could not believe they had an opportunity to share their passion for wine with their new community!
Shop Local in Fairwood
October 1st 2015 the Sam's officially took over the Wine Alley from the previous owners Scott & Alley. They have enjoyed getting to know everyone here in Fairwood and are passionate about shopping local. Did you know they carry local cheeses and chocolate? It is delicious if I do say so! Of course they carry local wines too like the hard to find Cave B and Delille! The Wine Alley also carries many different varieties of craft and hard to find beers.
Tastings & Events
Touŕe and Charisse invite you to be their guest. If you mention Rosie Rourke when you attend one of their tastings they will waive the fee*! Please head in there, say hello, taste some remarkable wine or beer and relax this holiday season.
*not valid on all tastings