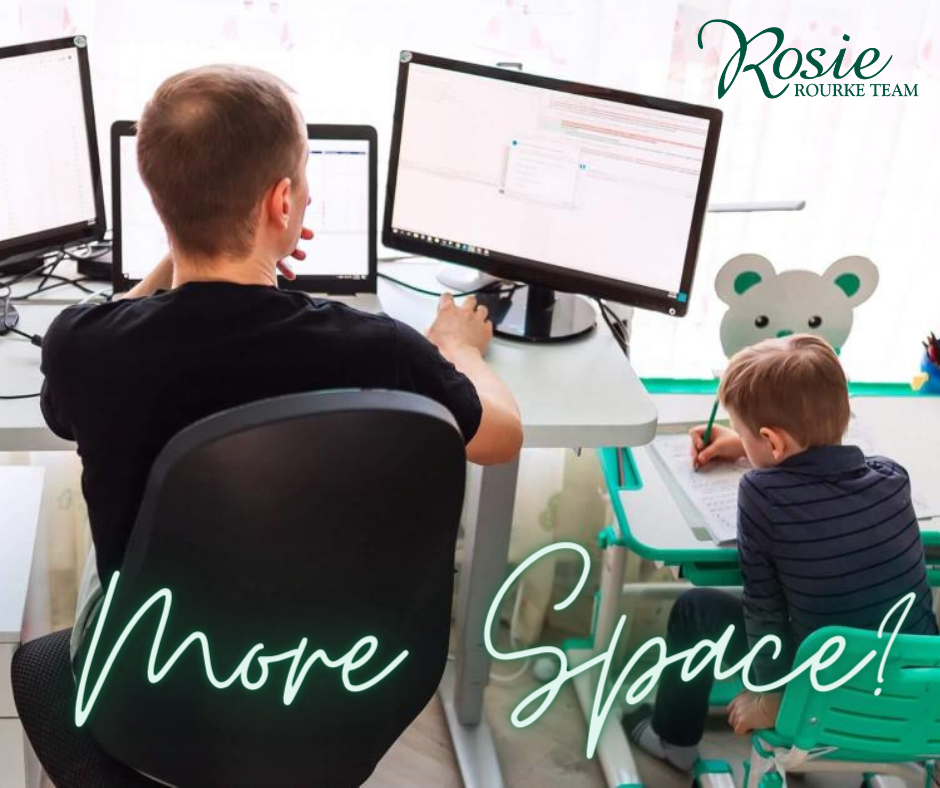 Need a Home Office/School Space?
Ideas for Work From Home Spaces, Homeschooling Areas & Maybe It's Time For More Space!
One trend we are seeing right now in real estate is clients wanting a home office or homeschooling space. Like it or not, working from home and distance learning for the kids are both here to stay. After months of being at home, do you still love your house? Does it suit you current family needs? Here are some cool ideas for converting areas of your home into homeschooling spaces or a home office for those ZOOM calls!
https://www.pinterest.com/rosierourke/
Many of our clients are also finding out that being home for so long has shown them some of the limitations of their space. Remember when you bought your house and you said,
"What do I need that extra bedroom for? Why do I need a home office, I work in a building downtown? That bonus room is a waste of space?"
Open concept homes are great until you need a quite space for a ZOOM call or an area for the kids to set up their "classrooms." You have options, maybe it's time to upsize? Odds are you have some great equity in your home!
"But Rosie, if I sell my house how can I afford a larger home, home prices are up all over?"
This is where the low interest rates come in. Lower rates mean more buying power for you. So yes, home prices are up, but with your equity in your current home + low rates, it might be more obtainable than you think! All it takes is a simple phone call, text or email to our team and we can give you a better idea of what your home is worth and what is available in the market for you. Just reach out, let's chat!
It is a great time to sell, buyers are circling and looking for a home like yours, trust us! Everyone is climbing the real estate ladder right now. Renters are buying condos, condos are upsizing to starter homes, starter homes are upsizing to forever homes, forever homes are downsizing to ramblers, and everything in-between! Our team has helped over 100+ clients already this year go from one end to the other, we have this dialed in.
"But Rosie, the thought of packing up and moving is scary and overwhelming, where do I start?"
RELAX, this is what we do! We don't just throw a sign in the ground and leave you to do it all, we take care of everything! The moment you decide to let us guide you on your home sales journey we lean in to make sure you have a stress free experience! From scheduling contractors, movers, people to help you de-clutter, we'll even be the ones to meet with the vendors for you so you don't have to miss work! We are full service!
"Ok, but what about selling then trying to buy something, I don't want to be displaced!"
Another great question, we have solutions for that as well! Using the equity in your home to buy a new one all while trying to sell it is both an art and a science. We work with some of the top lenders in the area who specialize in just that. We have several outside the box options to ensure you get top dollar for your current home and find you your new home. We can make it a seamless process, but you need to reach out to us to discuss these options because every situation is unique. There is also a possibility of an off market solution! Being the top team in the area we are connected to active buyers as well as other agents. In some cases selling your home without listing it is a great way to help you achieve your real estate goal without the anxiety of putting your home on the market. Once again, contact us and let's chat about your options!
In closing I just want to say… HANG IN THERE, YOU CAN DO THIS! We hope this post was helpful and let us know if we can do anything for you! – The Rosie Rourke Team