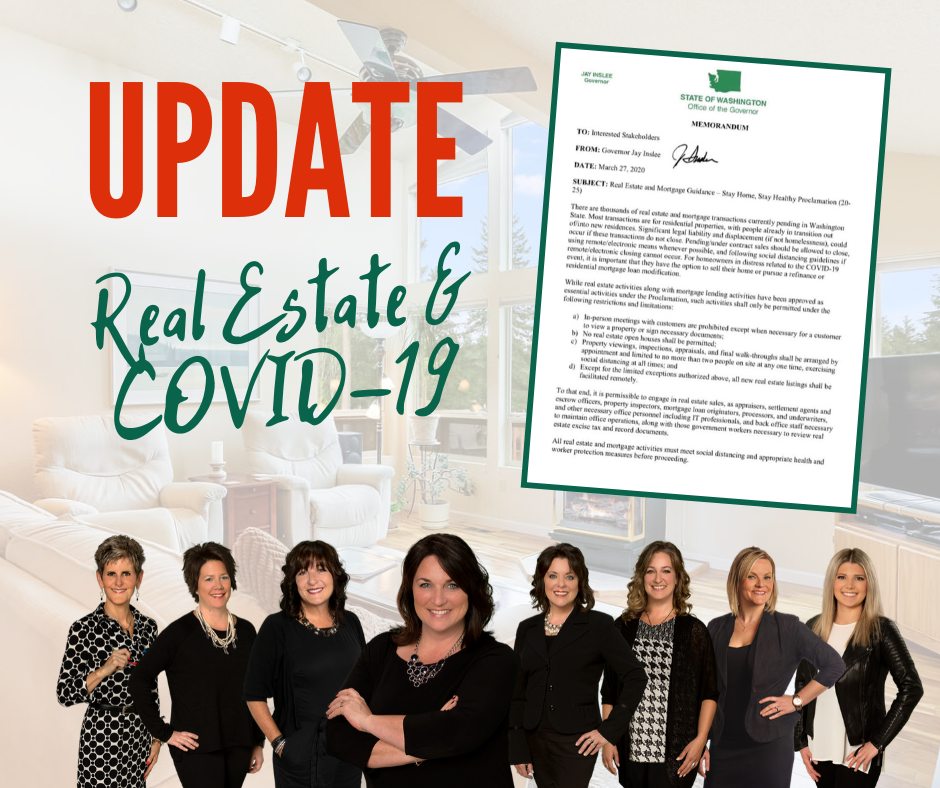 Hi everyone, Rosie Rourke here! I thought you may be wondering how the COVID-19 Stay Home, Stay Healthy Order is affecting the local real estate market. Today (March 28th) Governor Inslee lifted portions of his mandated shut down for our business. Realtors were originally not listed as an "Essential" company on Gov. Inslee's list. Geez… I thought I was essential (hahaha). Here is what is permitted with his new decree as of today: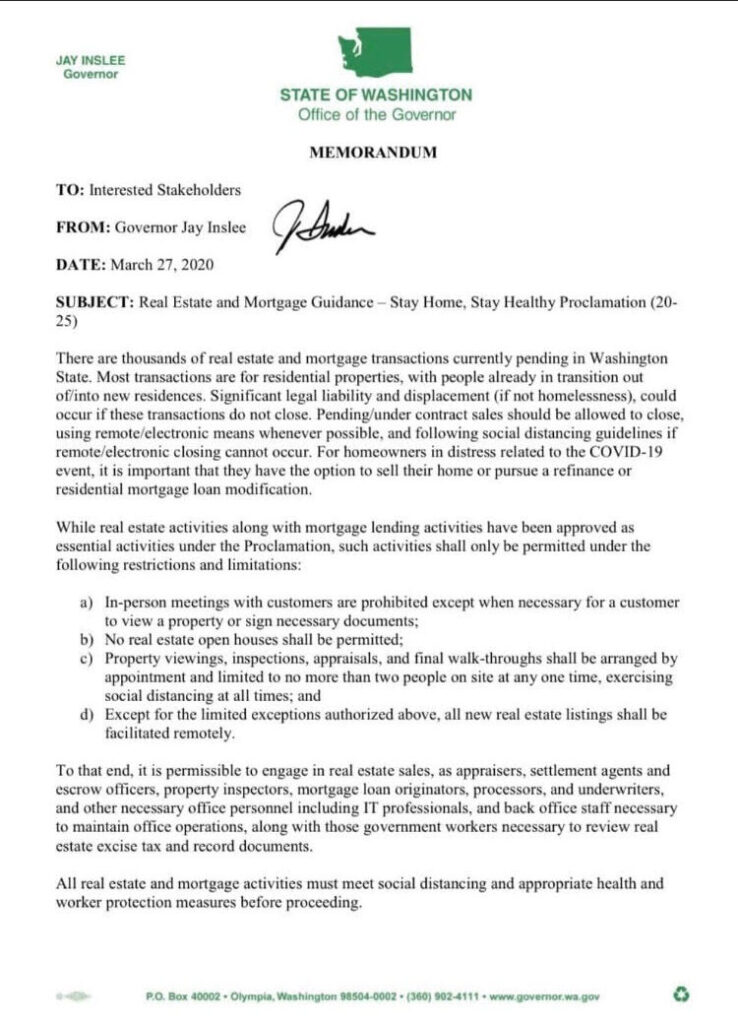 The MLS also has strict COVID-19 protocols for in-person meetings, inspections, and showings. Our team has already sprung into action to implement these new protocols at all of our listings as well as showing appointments with our buyer's agents. There are also no more open houses, you need to connect with a licensed real estate agent if you want to see a property.
We also understand if you are still uncomfortable with an in-person interaction at this time, we are serving our clients in a virtual mode! My listing team is doing listing presentations & home valuations by video conference. We are also strategizing with clients virtually to keep them set up for success in this market.
There are some clients that NEED to sell or buy right now and we have been able to help them get their home on market without stepping outside. We actually had 4 listings hit the market last week! For each listing we now create smart phone video walkthroughs of the home. Our goal is that active listings will be viewed by eager buyers with idle time (everyone is at home and online, lol) and hoping they will put us on their favorite list when mandate lifted. Or, better yet, buy it virtually (believe it or not, it happens, we just had a home go pending site unseen last night)! This is considered a blessing for buyers in the first time home buyer price range where they can actually have a chance to buy a home without bidding wars right now!
Will Home Values Decrease?
As you can imagine I am getting this questions a lot. My 25 years of professional real estate experience is banking on my crystal ball answer – no. We were slammed with bidding wars right up until the eve of the shut down. We even wrote virtual offers after shut down. You have to remember that we have an extreme shortage of inventory (homes on the market for sale) and historically low interest rates for buyers. Unlike 2008 our housing market is on a solid footing, there are more qualified buyers then there are homes for sale, period! The stock market is crazy right now, but interest rates remain low. Supply and demand is creating a hot market cooled only by this isolated event of the horrific virus.
Unfortunately, people getting layoffs, especially in hospitality, restaurant and travel industries are not in a position to buy. But many other industries in our diverse economy are simply working from home and are still in the market. When COVID-19 gets under control, businesses can open back up and employees can get back to work again. I have a hunch we will have penned up demand of buyers ready to surge after mandate lifted as well. Experts are saying we could see a Spring-like surge this Summer or Fall. Values do not decrease when there is demand, actually the opposite is true, and we are seeing that every day right now despite the Coronavirus.
Let's Recap...
Are people still selling their homes?

YES

Are people still buying homes?

YES

Can you see a home in-person?

YES

Can you see a home virtually?

YES

Can you go to an open house? NO
Is now a good time to sell?

YES

Is now a good time to buy?

YES
I'm here for you. My entire team is here for you. How can we help you? I am happy to chat and discuss any real estate concerns or questions you have. I am solution-oriented and utilizing my experience of surviving other economy crisis'.
Here's a tip - I've been advising my listing clients to consider putting their home on market NOW or late Spring/Summer. I'm concerned when flu season comes back in fall/winter, that COVID-19 will rear its ugly head again.
We will overcome! Sending blessings, and looking forward to hearing from you.
Warm regards,
Rosie Rourke